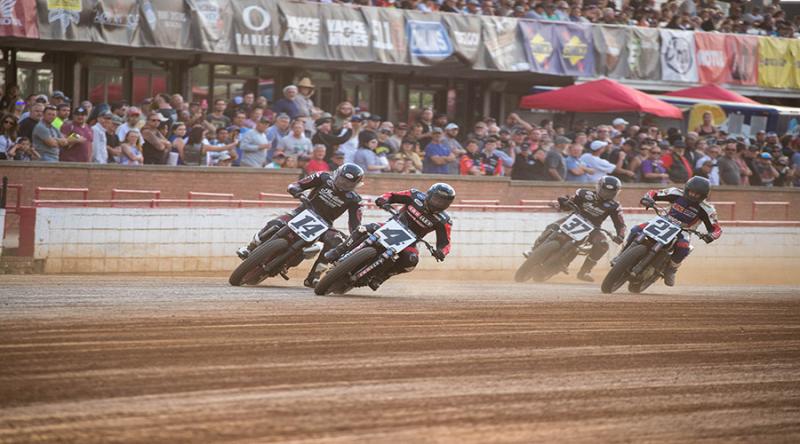 AFT Motorcycle Racing
Red Mile Gaming & Racing
Saturday, May 28 and Sunday, May 29
Kick off Summer 2022 with racing fun! Join us Saturday, May 28 and Sunday, May 29 for AFT! Spend your Memorial Day Weekend at the track and enjoy food, entertainment and high speed racing, all day!
For more information, check out https://www.americanflattrack.com/
Tickets on sale NOW! https://store.americanflattrack.com/ebooking/ticket/view/id/3722/ 
All tickets purchased in advance will be delivered via Digital Download. Will Call is located immediately on-site at Red Mile Racetrack. For questions or concerns, please contact tickets@americanflattrack.com
Day of event ticket will-call address:
Red Mile Racetrack
1200 Red Mile Road
Lexington, KY 40504
Please Note:
Campers/RV's, as well as tailgating and overnight parking are not permitted for this event. Additionally, only licensed service animals wearing a vest, with the owner carrying service animal license are permitted. Race time is subject to change based on weather.
Items Permitted inside Red Mile Racetrack:
Clear bags that measure 12" x 6" x 12" or smaller (1 bag per person)
Small non-clear bags that measure 4.5" x 6.5" or smaller (1 bag per person)
Personal sized umbrellas 
Personal sized blankets
Sunscreen and Bug Spray (Non-Aerosol cans only)
Prohibited Items include: 
Any type of weapon, knives and/or firearms (No exceptions)
Illegal substances and any items restricted by Local, State and/or Federal Law
Any type of non-clear bag exceeding 4.5" x 6.5" in size
Fireworks, chains, glass
Outside food and drink (Exception of bottled water)
Selfie Sticks and any other video/recording equipment
Drones/UAV's
Lawn chairs, coolers and oversized umbrellas
Grills/Cooking equipment
All items brought through the gate are subject to inspection by Security and Event Officials. We ask that you respect and obey the rules of Red Mile Racetrack. Failure to do so may result in moving the location of your seating, or you and/or your group being required to leave the premises without refund.
If you would like to host an event during Live Racing season, please contact Cindy Solverson, Director of Sponsorship.
redmilescindy@gmail.com